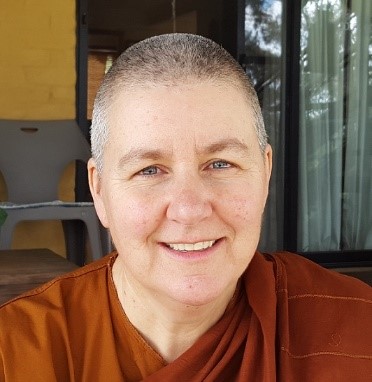 Samaneri Jayasāra has studied and practised Buddhism and meditation in various capacities for over 35 years. She has a PhD and Master's Degree in education, focusing on comparative spiritual traditions, Buddhism and psychotherapy. She has taught at secondary, undergraduate and post-graduate levels in psychology and counselling, and also worked as a trainer in mental health and crisis intervention in the welfare sector.
Jayasāra initially ordained as an anagarikā (8-precept nun) in the Theravada Forest Tradition in 2002, living at both Dhammasara monastery in Western Australia and at Amāravati and Cittaviveka monasteries in the UK for 2 years. She re-entered the monastic life as a samaneri (10-precept nun) in 2018 at Santi Forest Monastery, where she helped to maintain and further develop Santi as a monastery for female monastics.
In 2021, Jayasāra moved to Viveka Hermitage in southern NSW, to allow more focus on a growing online Dhamma project she had initiated, as well as to cultivate a more hermetic style of practice.